LUMINARIA NIGHT 2014 UPDATE:
Dundalk's 6th Annual Luminaria Night takes place this Friday, Dec.19 starting at 6 p.m. at Dundalk Village Shopping Center and surrounding areas.
Many nonprofit groups and churches will be displaying paper bag lanterns on their properties with Veterans and Heritage Parks as the centerpiece. The Historical Society at 4 Center Place serves as "headquarters" of Luminaria Night, and will be distributing materials to participants throughout the week.
F
estive activities on Friday at the Historical Society include live music by The Sky is The Limit performing arts group accompanied by Dr. Jay Walton on the keyboard on the plaza in front of the museum. Come join us for some rousing Christmas carols starting about 7:00 pm. Inside the museum, Santa AND Mrs. Claus will be on hand to greet youngsters between 6 and 8 p.m., and the train garden will be running all day and evening.

Even after Luminaria Night is over, the Historical Society will keep the festive Holiday mood going by presenting a special performance by Leather and Lace on the front plaza on Saturday, Dec. 20 at 6:30 p.m. Enjoy the acoustic guitar and vocalist by this popular Fleetwood Mac tribute act. They will be here to perform especially for their Dundalk friends, so come out and celebrate the season with us!
The Dundalk-Patapsco Neck Historical Society
4 Center Place
Dundalk, Maryland 21222
Telephone 410 - 284 - 2331
CLICK FOR DIRECTIONS
Click to read the Dundalk Eagle's feature on local train gardens.
THIS YEAR'S TRAIN GARDEN
at the Historical Society runs
DECEMBER 4, 2014
through
JANUARY 4, 2015
Open daily noon - 8:00 p.m.
Admission is FREE!

presented by
and by
B & B WELDING COMPANY, INC.
4640 North Point Blvd.
Edgemere, MD
----------------------------------------
Our scavenger hunt offers plenty of family fun. Be sure to search for the SpongeBob, Patrick and Gary figures. This year, you can also look for American flags, a plane crash, a rifleman and more.
---------------------------------------------------------
Just a friendly reminder that we are NOT the Wise Avenue Volunteer Fire Company Train Garden. Over the years, there has been some confusion regarding the identity and location of train gardens in Dundalk. After 15 years of operating Dundalk's "second" train garden, people are still surprised to learn that there are actually TWO train gardens in Dundalk each Holiday season. The Wise Avenue garden is very much "alive and well" and remains a very popular Holiday destination for many thousands of visitors from near and far.
Our garden here at the historical society is a bit smaller than that at Wise Avenue and is attended by considerably fewer people. It is our hope that those familiar with us will help us spread the word about our attraction in Dundalk's historic central business district - about two miles from the Wise Ave. Fire Station. It is our goal to boost our attendance this year, so that our train garden can also bring Holiday joy to the masses for many years to come.
All are welcome here!
THE HISTORICAL SOCIETY'S TRAIN GARDEN
BY THE NUMBERS
No. of years in operation ..........15
Overall size of display ...........400 sq. ft.
No. of trains .......... 5
No. of illuminated items ........... 160
No. of animated items ........... 110
Construction time .......... less than 3 weeks
We thank the Wise Avenue Volunteer Fire Company
for permitting our staff to hand out flyers to their visitors.
.
_______________________________________
Additional museum displays include:
Fairy Gardens
Dundalk Christmas Ornaments from 1986 - 2014
Old Model Trains
Miniature Room Scenes
_______________________________________
T
he 2014 Dundalk Christmas Ornament and other items
are available for purchase at our gift shop
This year's theme is The Battle of North Point Bicentennial
Price - $10
____________________________________________________
ADVERTISE YOUR BUSINESS IN OUR TRAIN GARDEN
"Miniature Billboards" are still available.
Phone 410 - 284 - 2331
for info and rates.
----------------------------------------------------------------------------------------
2014 LUMINARIA NIGHT IN HISTORIC OLD DUNDALK
Coming THIS Friday, December 19
This year's Luminaria event will again expand to include more areas of our community.
Santa and Mrs. Claus will be at the train garden, and we'll feature live music outdoors.
DR. JAY WALTON ON KEYBOARD
CLICK TO READ THE DUNDALK EAGLE'S LUMINARIA FEATURE
The photo below shows just a small portion
of Dundalk's vast Luminaria display on Dec, 20, 2013.
(Photo by Paul Rosenberger)
.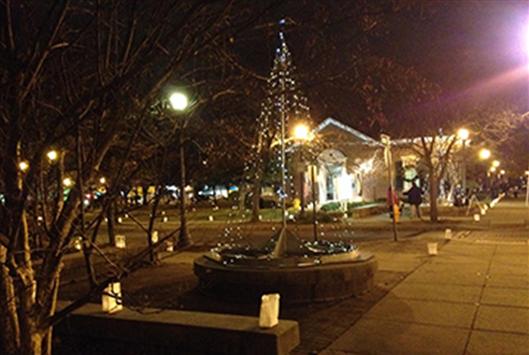 Click here to go to our video of the
music program of this year's Luminaria Night.
--------------------------------------------------
CLICK TO VIEW THE
HISTORICAL SOCIETY'S
OFFICIAL WEBSITE
--------------------------------------------------------------------------------------------------------------------
2014/2015 TRAIN GARDEN COMMITTEE
Michael J. Andy (General Chairman)
Duane Phillips (construction assistant)
Scott Collier (aerial effects)
John O'Donnell
SUPPORT STAFF
George Karle (Attic Detail)
Eric Wipprecht (Attic Detail)
Joe Stadler (Attic, Parade Entry and Luminaria Coordinator)
Donna Young (Backdrop, Supplies)
Rose Benton (Backdrop)
Rex Fulghum (Backdrop)
Suzanne Stadler (Vestibule Decorations)
Dale Grimes (Roadside Signage)
Buzz Chriest (Santa Detail)
Ann Booker
David Robert Crews (Photography)
=======================================================================.